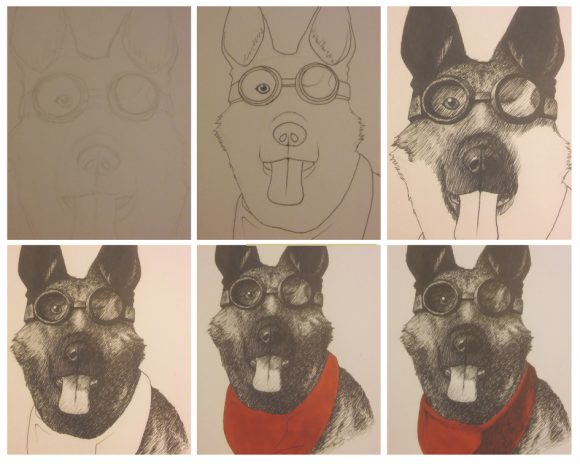 If you follow me on Facebook at all, you'll know that my latest project is "Dogmeat". In case you didn't know, he's a companion in the game Fallout 4.
Although, I have yet to play the original Fallout games, it's one of my favorite game franchises. My husband and I both played and replayed Fallout 3 and New Vegas until we knew every inch of those maps. So, it was natural that we were in line outside at 11 o' clock on a weekday in 50 degree weather to get the early release of Fallout 4.
I've already done a sketch of Nick Valentine (my personal favorite companion) which is up on my Society6 store. But, Dogmeat was naturally my next subject. He has been as loyal as a dog should be–showing up again in the next installment to help the player. Nothing has really changed about him, aside from the graphics. Except, this time, he becomes a major part in the plot of Fallout 4–only adding to his loveability in my opinion.
I wanted to capture his loyalty and easy-to-love personality in this piece. He's dressed and ready for battle, or exploration, or whatever adventure his master–the player–wishes. How can you resist such a sweet face?
Want to buy the print? Click on the "Buy My Art!" button. Don't forget to follow me on Facebook, Hayley Boothe Art, or instagram @h.boothe
Save
Save